Open today until 5:00 p.m.
Monday

9:00 a.m. - 5:00 p.m.

Tuesday

Closed

Wednesday

9:00 a.m. - 5:00 p.m.

Thursday

9:00 a.m. - 5:00 p.m.

Friday

9:30 a.m. - 4:30 p.m.

Saturday

9:30 a.m. - 4:30 p.m.

Sunday

9:00 a.m. - 5:00 p.m.
Fancy yourself an 18th-century customer, shopping for boxes, drawers, and bundles full of the latest ornaments and accessories, called millinery. Consult with the mantua-maker about updating old gowns to bring them into the newest 18th-century fashion.
Fashionistas Itinerary
Did you know colonialists often wore bright colors and patterns? Explore the world of 18th-century fashion and style.
learn More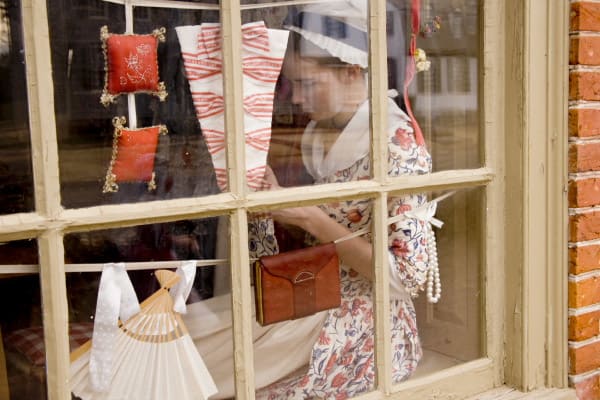 Make A Difference!
As we are not state or federally funded, The Colonial Williamsburg Foundation relies on individual donations of any size to fulfill our mission to feed the human spirit by sharing America's enduring story. Send in your gift today and make a difference!
Historic Trades
Discover craftsmanship in more than 20 trades, where modern-day practitioners use 18th-century tools and techniques to apprentice in — and eventually master — blacksmithing, woodworking or gunsmithing, just to name a few.
View All